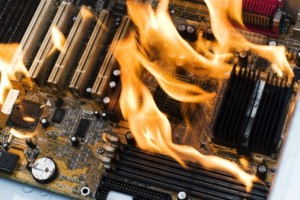 You'd be pretty hard up if your computer died cutting you off from the ability to study online.  Well, with 100,000,000 Americans – a full third of the US population – experiencing the broiling effects of a huge heat wave, you should take some steps to protect your link to the online classroom.  Just like humans and pets, the computer too is vulnerable to breakdown brought on by excessive heat.
Symptoms of Overheating
– Turning off on its own – Not wanting to boot up after it turns off – Freezing – Blue Screen – Is hot to the touch – Loud fan running – Frequent memory errors
Here is a great list of steps
you should take to protect your machines during periods of extended heat.  Oh, yeah and also, drink plenty of fluids and make sure that the young, elderly and pets do too!  Wouldn't want anything to happen to them either!