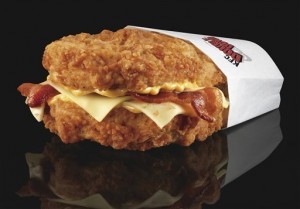 In case you haven't seen it, Kentucky Fried Chicken has launched its new "sandwich" called the Double Down.  It is essentially two fried chicken breast fillets masquerading as bread.  In between is bacon, cheese and special sauce.  I imagine the name Double Down refers to the bet you make with yourself about whether or not you will suffer a myocardial infarction from eating this mother of all gut bombs.  I cannot imagine who was responsible for the market research that supported the roll out of such a disgustingly over indulgent piece of processed junk food.  Now don't get me wrong, my culinary sensibilities aside, I can enjoy some good ole fried chicken as much as the next guy.  But this "sandwich" seems to revel in being obstinately opposed to being even the slightest bit health conscious when it comes to diet.  What do you think?  At the very least, it will certainly contribute to the volume of people who need to seek medical care.  And that's good for people pursuing a career in medical assistance.  Here's another,
more scathing review of this monstrosity
from the SF Gate newspaper in Frisco!  Enjoy.