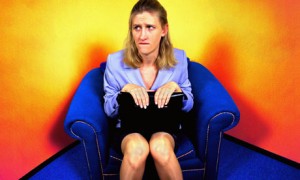 You only get one chance to make a first impression.  This is especially true in the interviewing for a job position.  With so many applicants for each available job, you need to put your very best foot forward.  Just try not to be tapping your best foot all through the interview.   Allen School Online students get a highly respected certification when they finish their studies of medical billing and coding.  However, no matter how good your grades are, and no matter how respected your education is, and no matter how articulate you may be in the interview, you can still blow it and not even know it.   The
Wisebread.com
blog site has a great piece up right now that chronicles some of the non-verbal or "body-language" cues that can distract an interviewer during your meeting.  Things like excessive staring (while trying to maintain good eye contact), bouncing one's leg up and down (due to nervousness) or nodding too much (trying to indicate high levels of interest) can all be negatively interpreted by the hiring manager. 
Click here to read the whole article
and its list of "don'ts" for body language during the interview process.