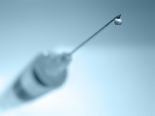 I don't know about you, but I have never been a proponent of the annual flu vaccine. I have always felt that it was really only necessary for the very young and the very old/infirm. But I also know that influenza became pandemic on a faily predictable schedule about once every 30 years or so. And since it has been nearly 40 years since the last pandemic of "Hong Kong" Flu killed 1 million people in 1968-69, I am thinking this year, I ought to at least get my 4 year old innoculated. So I called my pediatrician and they said, "No we don't have any H1N1 vaccine and no we don't have any info on when any will be available". Shocking!
    Here is a chart showing the last 4 flu pandemics and the death tolls each exacted on the world.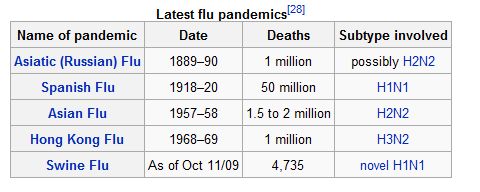 Hilleman M (Aug 19 2002). "Realities and enigmas of human viral influenza: pathogenesis, epidemiology and control".
With the outbreak of Swine Flu occuring last year, I cannot understand why it has taken so long for the vaccine to be produced and distributed.  Have any of you had problems finding vaccine?  Share your experiences in the comments bel0w.