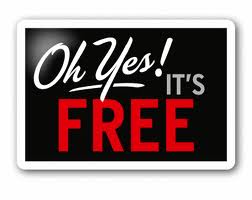 Hey, it's hard to be a full time online student.  Especially if you're also working full time and/or raising a family at the same time as you study to enter this exciting new field.  There frequently isn't much do re mi left after you finish paying for all the essentials.  Lucky for you the fabulous folks at
Kiplinger's
compiled this awesome list of freebies.  From meals, to books, to outings and more, there is lots to do, eat, drink, watch, listen to, read and enjoy for less than one thin dime. 
Click here for the article
chock full of fee-free goodness.   And if there's nothing there that appeals to you, have a look at
www.totallyfreestuff.com
for even more gratis goodies.  If you're still not satisfied, I will refund to you the full purchase price you paid for this blog.