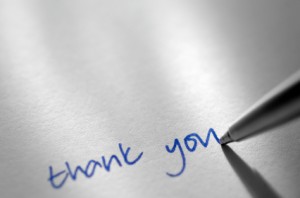 Everyone knows that the proper protocol is to send a thank you letter to the interviewer after having been interviewed.  It's as well-known a part of the job hunt process as "dressing for success" and writing a custom CV for each application.  But with the job market as tight as it is, you need every edge you can come by to stand apart from the other applicants.  The Allen School Online certification is a good start.  But consider this wisdom regarding how you can leverage the obligatory "thank you" letter into a memorable vehicle to reinforce your interview. Www.interview-secrets.net has a great article on this topic.  According to the piece, most people either skip the thank you letter thinking it is a pointless formality.  Others simply send in a letter that expresses thanks, but does nothing more to help you stand out and seal the deal. 
Read the article here
for some secrets on how you can create a potent, meaningful and strategic follow up letter to your job interviewer.