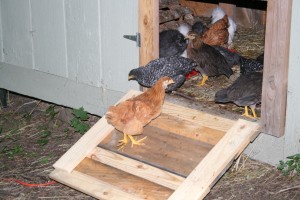 How do you like your eggs?  This is a question that for years, I always answered either, "sunny side up" or "over easy" and typically followed by, "with bacon, well done and coffee, black."  But a few years ago, after landing a stable virtual office job, I moved to the exurbs and having lots of outdoor space and a young son, I decided to raise some chickens for their eggs.  I did this so we would know more about the origins of the foods I was eating and feeding to my family.   Let me tell you, I learned a lot of things I just didn't know before.   For example, did you know that most fertile chickens lay one egg per day?  Neither did I!  I started off with 12 birds and was collecting a dozen fresh eggs every day!  As a family of three, we couldn't eat our way out of the problem of having too many eggs.  (We downsized to only 4 birds, but that's another story).  Follow me over the fold for more egg-citing information including information you can actually use regarding misconceptions about the eggs most of you probably buy in the supermarket. Which is better for your health?  Brown or white eggs? Why are eggs from free range chickens different? Are organic eggs any healthier than regular eggs? For answers to these questions and more, check out
this article from Yahoo! Green entitled, "Four Myths About Eggs".
If you have any other questions about chickens and eggs, ask me in the comments.  I really know too much more about this than I ever expected I would.