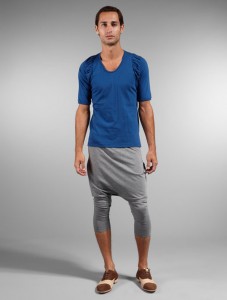 Carole Martin writes for Monster.com
an excellent article
about how to "dress for success" at the job interview.  Click here to read the entire piece.  But the top 10 list of common sartorial mistakes are shown below.
Wild Nail Polish:
This tip is for women or men. Extremely long or uncut nails are a real turnoff, too. Your nails should be groomed and neat.  
Jangly Jewelry:
Don't wear more than two rings per hand or one earring per ear. And no face jewelry or ankle bracelets allowed. 
Open-Toed or Backless Shoes:
And mules are a definite no-no. Out-of-date shoes should be thrown out or kept for other occasions. 
Bare Legs:
Wear stockings, even in humid summer weather. Stockings can be in neutral colors or a fashion color to match your shoes. 
Out-of-Date Suits:
These have lapels that are too wide (three inches or more) or too narrow (one inch or less). A good tailor can alter lapels. The style for men's jackets is full-body and looser rather than fitted or tight. 
Short Skirts:
Hemlines should not be more than three inches above the knee. Don't wear capri pants or leggings to the interview. 
Leather Jackets for Men or Women:
Even leather blazers are not good for interviewing purposes. They look like outerwear. 
Turtlenecks for Men:
A tie is preferable, at least in the first go-round. At the very least, wear a collared shirt. 
Printed or Trendy Handbags:
Purses should be conservative and inconspicuous. 
Red Briefcases:
Briefcases, purses and shoes should all be conservative in color and in good condition.