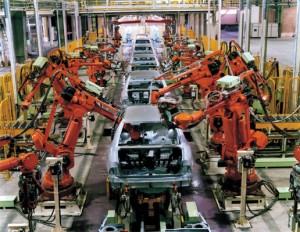 Noticeably absent from
this depressing article
about the disappearance of middle class jobs was any mention of declining numbers of available careers in medical fields.  The middle class squeeze, as we all know, has hit hard at industries like manufacturing where thousands of jobs in factories and assembly lines have been sent overseas to "low cost labor markets"  like China and India or automated with robotics and other technologies.  But this article showed the top five hardest hit career fields outside of manufacturing.  They were:
Travel AgentsFive-year decline:
14%
Vocational Education Middle School TeachersFive-year decline:
14.4%
Broadcast News AnalystsFive-year decline:
15.9%
Agricultural EngineersFive-year decline:
18.4%
Transit and Rail PoliceFive-year decline:
18.7%Notice what was (thankfully) not included in this sad list?  If you said, "medical industry jobs", give yourself a prize!