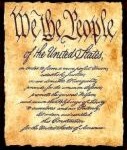 Today, September 17th is Constitution Day. This holiday, sometimes referred to as Citizenship Day recognizes the ratification of the
United States Constitution
and those who have become U.S. citizens. It is observed on September 17, the day the U.S.
Constitutional Convention
signed the Constitution in 1787. This year, although historic health care legislation has recently been passed, many of the worst abuses of the insurance industry are still in effect as providers plan a double digit rate increase.  So even though major provisions of the newly passed bill won't take effect until 2014, there is still a moral imperative to make sure all Americans have access to basic healthcare.  I have heard many opponents of universal healthcare ask, "Where in the Constitution does it say that we're entitled to universal healthcare?". Follow me over the fold for the answer to this, and other questions about the amazing document at the core of our Democracy.
Continue reading…