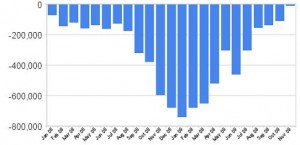 They say employment figures are a "lagging indicator" which is stock market speak for measurements that we look back on for perspective.  That is, economic growth happens first,
then
employment picks up.  This makes logical sense because obviously, companies don't start hiring
before
new business picks up.  But once new orders come rolling in for all manners of products and services, companies scramble to hire in order to accommodate the increasing demand.  This is why it is so heartening to see the following chart showing the employment figures over the last two years.  Follow me over the jump for analysis.
Continue reading…